B2B Recharge Software
Our B2B mobile recharge software revolutionizes the way businesses manage their recharge services and bill payments. By offering streamlined transactions, customization options, real-time insights, and enhanced partner engagement, this software becomes a catalyst for growth and efficiency. Embrace the power of B2B recharge software to elevate your business operations and push your company towards success.
Benefits of B2B Recharge Software
Brand Building : Customized recharge website and apps help establish your brand presence.
High margin : You can offers commission to users for all prepaid/postpaid recharges and utility bill.
Member Level : Add unlimited members as retailers, distributor and master distributor.
Automation : Complete automated software with recharge api, payment gateway as well as whatsapp Api to manage many operation automatically.
B2B Recharge Portal Features
Seamlessly manage and facilitate recharge services for businesses through our comprehensive B2B recharge software, designed to streamline transactions and enhance user experience. Our integrated B2B recharge portal offers a centralized platform for businesses to conveniently manage their recharges, ensuring hassle-free operations and rapid scalability.
Customized Solutions
Tailor the software and portal to your unique business needs, ensuring a personalized experience for your partners.
Real-time Monitoring
Gain insights into recharge report, user behaviors, and commission report with our advanced analytics options.
Effortless Transactions
Experience seamless and secure B2B recharge transactions, minimizing downtime and maximizing revenue potential.
Reliable Support
Benefit from our dedicated support to address your queries, provide technical assistance, and ensure uninterrupted operations.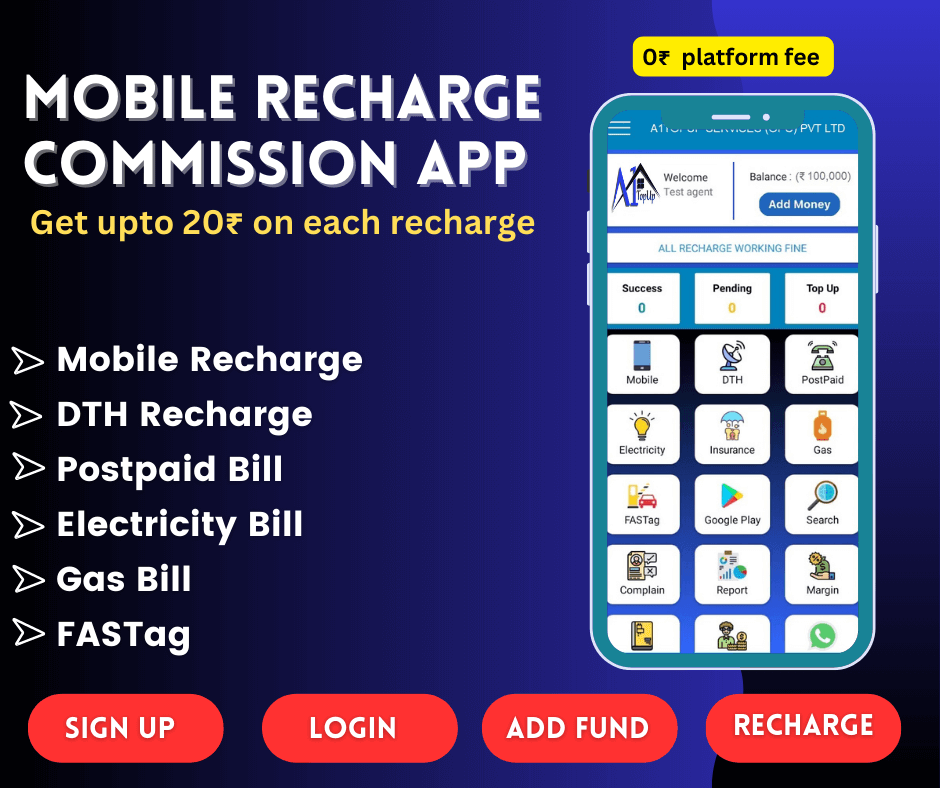 Frequently Asked Questions
What is B2B Recharge Software?

B2B recharge software is a web-based platform that allows seamless online Mobile recharge, DTH connections, Postpaid and Bill payments on a bulk basis. It enables recharge distributors and enterprises to manage high-volume recharges efficiently.

What are the key features of a B2B recharge portal?

Our B2B recharge portal offers features like automated API recharging, payment gateways, role-based access, channel partner management, inventory management, transaction analysis, and more. It centralizes and automates all recharge operations.

How does B2B recharge platform benefit my business?

A B2B recharge platform can benefit through increased productivity, reduced costs, wider customer reach, better partner management, enhanced security, opening of new revenue streams, and improved brand presence.

Can the recharge platform be customized as per my business need?

Yes, the platform can be completely white-labeled and branded as per your business requirements. The UI/UX can also be customized.

What is difference between B2B and B2C recharge software?

B2B recharge software is designed for businesses doing large recharge volumes and allows process automation. B2C software focuses on end consumer recharges with simpler features. Businesses should choose software as per their target users and needs.

Is B2B Recharge Portal secure?

Yes, Our B2B Recharge Software is fully secured by different socket layer. We used advanced encryption techniques to protect your account and transaction information.
Our Address
Vanasthalipuram, Hyderabad, India 500070. (Head Office)
Bari Road, Purana Topkhana, Balaganj, Lucknow, India 226003.
Call Us
+91 9161019161
+91 8125943396
Email Us
a1topupservices@gmail.com
support@a1topup.com